Idea: When booking online - look up if the client has an existing appointment on the same day they are trying to book for and takes them to reschedule instead of booking a new appointment.
Hi, 
a patient named lennox tierney isn't getting reminders. Yet the same number under his mums account is? we have had to triage his account numerous times now and it's the same phone number

Hi Eric,
I have just created a ticket for you regarding this issue, since we will be sharing a few details from within your Zurli site, while addressing this query and public forum will not be suitable for sharing such details.
I have already sent you a reply in the ticket, which you should have received by now.
Sincerely,
Volta 
It would be great if Zurili would send us an email notification of an Online New Patient Booking. Several times we have been caught unawares by a new patient when we were busy or out of the office. It would be great if we can get an email to ensure our best service.Unless I have missed this feature?

Hi,
This is indeed possible through an SMS notification which will be sent out to the practitioner, the patient has been scheduled with.
I have sent you the details regarding how to configure this, in a ticket, which I just created for you.
Sincerely,
Volta
There seems to be an error with snycrotron
This is how the error reads below in " ". It has resulted in double bookings and miscommunications. 
Have sent diagnostics with the error message as the diagnostic message.
"Looking for local changes to upload
--- ERROR --- Unable to GET settings, Response code: Unauthorized, Message:"

Hi,
This issue has been moved to a private ticket and you should have received an email regarding that ticket along with the reply to your question.
Sincerely,
Volta

Hi, We have to change our API key for Cliniko before March 20th. What would be the best way to let you know our new API key? Or can I re enter it on the website myself once i have created it?

Hi! I'm struggling to find where to do a data export so I can give it to our marketing agency.
Any help would be appreciated :)
Bryce

Hi Bryce,
I have created a ticket for you regarding further communication about your query, since some sensitive information particular to your account might be discussed and a public forum will not be the appropriate platform for that.
You should have received an email about that ticket by now. 
Sincerely,
Volta
Hi
Have just sent diagnostics from syncrotron.  I'm now getting this error:
Error: The field is too small to accept the amount of data you attempted to add. Try inserting or pasting less data.
looking for new or changed items in local database...
It then synced and removed the patient names from 3 online bookings for next Tues 3pm 3.30pm and 4pm.
I have no idea who these people are now.
Can you please help

Hi Wayne,
I have created a ticket for you to continue with further communication regarding this issue. Kindly reply to that ticket, if you would like to add any further details
Hi
The syncrotron suddenly stopped working and I get this message...
"Unable to find /api/appointments/"
Don't know what has changed.

Hi Wayne,
Kindly use the link shared below to update the Zurili Syncrotron. As soon as you click on the link, you will be brought to a page with an option "Install" available on it. Please click on the option "Install", this will help update Zurili Syncrtron:
https://s3-ap-southeast-2.amazonaws.com/zurili-public/ZuriliSyncTool/publish.htm
Here is a screenshot of the webpage for further reference: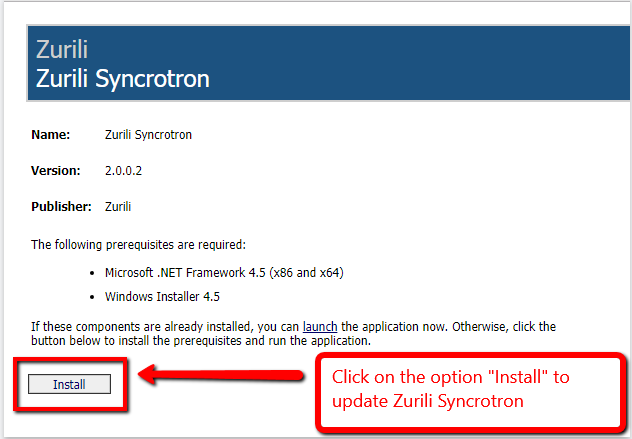 Once the update is complete, please restart Zurili Syncrotron and see if the problem has been fixed.
Please do let me know if you come across the same issue.
Sincerely,
Volta
Our ticket seems to have disappeared :(
We need to ensure that all data fields are filled in by new clients booking online. Ie we need their FULL name, DOB address, medicare, email and phone numbers.
At this stage they only ASTERIX fields for name and phone number.
Can you please advise how we amend this so that all fields must be filled in for clients to make an online booking?
Thanks and looking forward to your prompt response with this, as I havent realised that our previous ticket had gone astray


Hi,
I have just sent a detailed response regarding this in the latest ticket that you just raised for this response along with a link and reference to the previous ticket.
You should have received that response by now.
Sincerely,
Volta


Hi,
In order for me to be able to assist you to the best of my abilities, could please be so kind as to share with me a little more detail about the issue you came across including:
1- The name of the practice you are trying to book the appointment with 
2- The name of the doctor you are trying to book the appointment with
2- Most importantly, the  exact error message you see when you try to book the appointment
As soon as I receive the above information, I will be sure to look into this right away and update you about my findings.